Welcome to our October Blog Hop featuring CTMH's newest Cricut Collection, Artistry. To purchase any of the items seen in our blog hop today, contact your local consultant to place an order.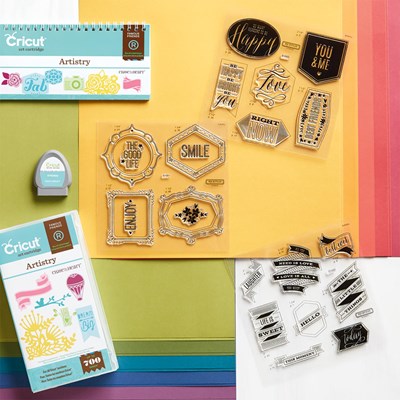 We hope that you will take the time to leave comments on our posts, as we love to get feedback from our viewers....whether it was something that you really liked or some new technique that was used that you would like to learn how to do....by leaving us comments, we get to hear what you like, and what you want to see. Thank you… now on to our hop!
If you have just hopped onto my blog, you can start here as this is a circular hop,and I just happen to be the first stop hopping from East Coast to West Coast. If you came from Kirstin's blog then you are in the right place!
For my project I started with the cuts from our Newest Cricut Collection, Artistry. This cut is found on page 26. I used the Shape cut for the mat which I cut from Saffron Cardstock. The White Daisy is a layer cut. I adhered those layers to the Zoe Glacier Hoodstooth pattern before adhering to the card base. The sentiment is from Blossoming Expressions ( D1665). I cut a banner and stamped in Black and Saffron ink, and popped it useing 3D Foam Tape.
Your next stop on the Cross Canada Hop is Nicky.
If you get lost along the way I've posted the
complete blog list here for you.
Thanks for hopping along with us - we hope we were able to inspire you to get creative using some of the designs, products and techniques seen along the way. We hope you will join us again next month when we will be feature Preparing for Christmas. So mark November 15th on your calendars and hop along with us.