Welcome to our September Blog Hop featuring our Favorite New Things. To purchase any of the items seen in our blog hop today, contact your local consultant to place an order.
We hope that you will take the time to leave comments on our posts, as we love to get feedback from our viewers....whether it was something that you really liked or some new technique that was used that you would like to learn how to do....by leaving us comments, we get to hear what you like, and what you want to see. Thank you… now on to our hop!
If you have just hopped onto my blog, you can start here as this is a circular hop, but if you want to follow us across Canada then please start at the beginning and join
Julie at 12*12 Travels
.
I have so many favorite items from the catalog that I couldn't just choose one, so I will show you a few of my favorite things. First thing that I totally love are all the new stamps, the images are just so fabulous...but I couldn't show you all the images, so I choose one stamp set to feature. I chose Frost Fun(D1611).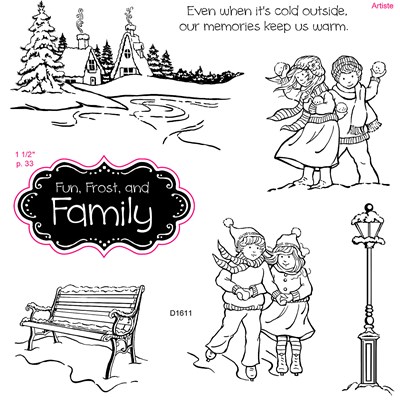 I used our New Alcohol Markers, ShinHan Touch Twin, to color the image stamped.
Colors used:
Black 120
Warm Grey WG7 and WG4
Tender Pink RP198
Barely Beige YR29
Carmine R11
Turquoise Blue BR68
Marine Blue B62
White Colorless Blender
The next items that I really like are the new pieces to our base and bling line. If you are wondering what I mean, then check the pieces below out.
We have many jewellery pieces available in our catalog now, and these are just a few. I have the new oval and rectangle pieces, but haven't been able to create anything yet. Aren't they just fabulous, and this frame is the prefect showcase for displaying this necklaces.
My last piece to show you is a card I made for my Customer Appreciation day. It uses my favorite paper package, Seaside, and the super fun Treasured Friendship (C1594) stamp set, Teal Shimmer Trim and one of the new border punches Z1998 The Chevron Border Punch.
I placed the shimmer trim behind the punched border.....doesn't it just pop! I really hop you enjoy our blog hop this month, and will continue to hop along with our very talented Canadian Consultants.
If you get lost along the way, just pop back here to my blog and visit the complete blog hop list.
Thanks for hopping along with us - we hope we were able to inspire you to get creative using some of the designs, products and techniques seen along the way. We hope you will join us again next month when we will be featuring Trick or Treats,for Halloween. So mark October 15th on your calendars and hop along with us.